We all need to do our part to help stop the spread of COVID-19. We are in this together and we will get through this together.
Health Canada has created a large collection of resources to help keep you and your families safe during the time of COVID-19.
You can find all of the below resources in multiple languages and more information at canada.ca/coronavirus  
To receive email updates from the Government of Canada about COVID-19, click here.
---
Take steps to reduce the spread of the coronavirus disease (COVID-19):
follow the advice of your local public health authority
wash your hands often with soap and water for at least 20 seconds
use an alcohol-based hand sanitizer containing at least 60% alcohol if soap and water are not available.

try not to touch your eyes, nose or mouth

avoid close contact with people who are sick and practice physical distancing

cough and sneeze into your sleeve and not your hands

stay home as much as possible and if you need to leave the house practice physical distancing (approximately 2m)
---
Physical Distancing
Physical distancing means making changes in your everyday routine to minimize close contact with others, including:
avoiding crowded places and gatherings
avoiding common greetings, such as handshakes

limiting contact with people at higher risk (e.g. older adults and those in poor health)

keeping a distance of at least 2 arms lengths (approximately 2 metres) from others, as much as possible
Click here for more information on physical distancing.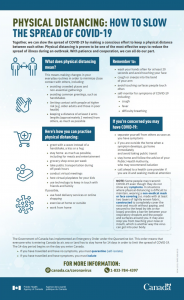 ---
Washing your hands
Step 1: Wet hands with warm water.
Step 2: Apply soap.
Step 3: Wash hands for at least 20 seconds (including your palms, back of each hand, between fingers, thumbs and under nails).
Step 4: Rinse well.
Step 5: Dry hands well with paper towel.
Step 6: Turn off tap using paper towel.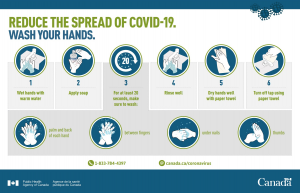 ---
Wearing a non-medical mask or face covering
Appropriate use of non-medical mask or face covering
When worn properly, a person wearing a non-medical mask or face covering can reduce the spread of his or her own infectious respiratory droplets.
Non-medical face masks or face coverings should:
allow for easy breathing

fit securely to the head with ties or ear loops

maintain their shape after washing and drying

be changed as soon as possible if damp or dirty

be comfortable and not require frequent adjustment

be made of at least 2 layers of tightly woven material fabric (such as cotton or linen)

be large enough to completely and comfortably cover the nose and mouth without gaping
Some masks also include a pocket to accommodate a paper towel or disposable coffee filter, for increased benefit.
Non-medical masks or face coverings should:
not be shared with others

not impair vision or interfere with tasks

not be placed on children under the age of 2 years

not be made of plastic or other non-breathable materials

not be secured with tape or other inappropriate materials

not be made exclusively of materials that easily fall apart, such as tissues

not be placed on anyone unable to remove them without assistance or anyone who has trouble breathing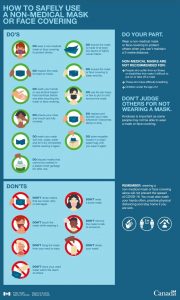 How to wear a non-medical mask or face covering properly (video)
---
More COVID-19 resources: